How to work:
The pile of the bridge bucket reclaimer reclaiming work is piled up in a herringbone shape by the stacker. The two bucket wheel devices of the reclaimer are mounted on the main beam and run back and forth along the length of the main beam on the cross section of the pile. In the cross section of the pile, the take-up hoppers of the two bucket wheel devices are respectively mixed and taken at the different take-off points for the first time, and the two bucket wheel devices rotating around the main beam take the materials taken at the lower position. At the high position, the material is conveyed to the receiving belt conveyor arranged in the main beam for a second mixing. The receiving belt conveyor receives the material removed by the first bucket wheel device and then transports it to the second bucket wheel device. The materials removed by the two bucket wheel devices are mixed to complete the third mixing work, and the fourth mixing work is completed when the material being excavated is discharged to the ground belt conveyor of the system. The process of continuously taking and discharging the material not only achieves the process requirement of mixing and reclaiming.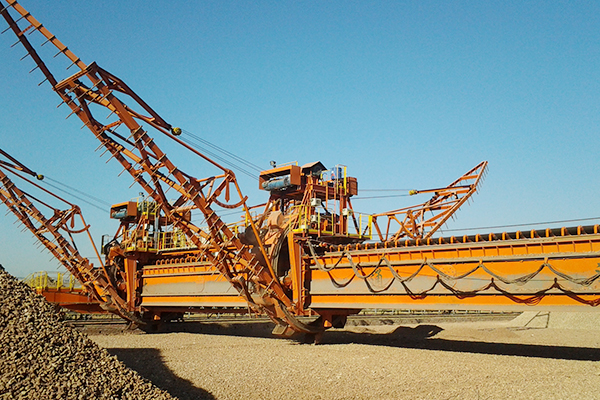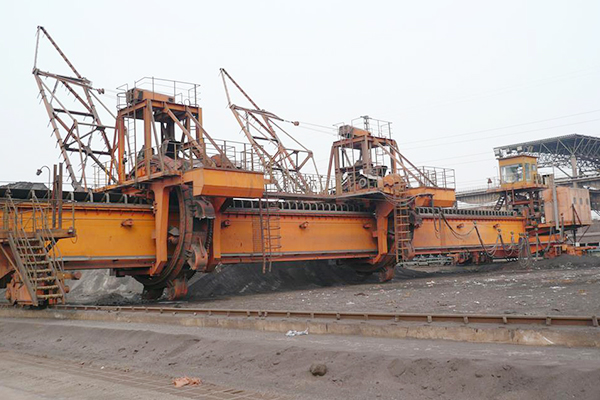 Bridge Bucket Reclaimer Technical Specification Sheet:
Model

HQL250/26

HQL750/30

HQL600/32

HQL800/35

HQLS2000/37

HQLS1500/37

HQLS1800/48

HQLS2500/50

Name

Bridge bucket wheel stacker and reclaimer

Production capacity(t/h)

250

750

600

800

2000

1500

1800

2500

Applicable material

Medium, limestone, iron, shale, bauxite, clay and other bulk materials

Walking gauge(m)

26

30

32

35

37

37

48

50

Shunt speed(m/min)

16.5

20

16.5

20

Maximum wheel pressure(KN)

160

180

280

270

330

Way to control

Automatic control, manual control
Model Description: HQL1/2. H-mixing, Q-bridge, L-bucket reclaimer, S-double bucket wheel, 1-receiving capacity (t/h), 2-track.